MORTISE DOOR LOCKS AND CYLINDERS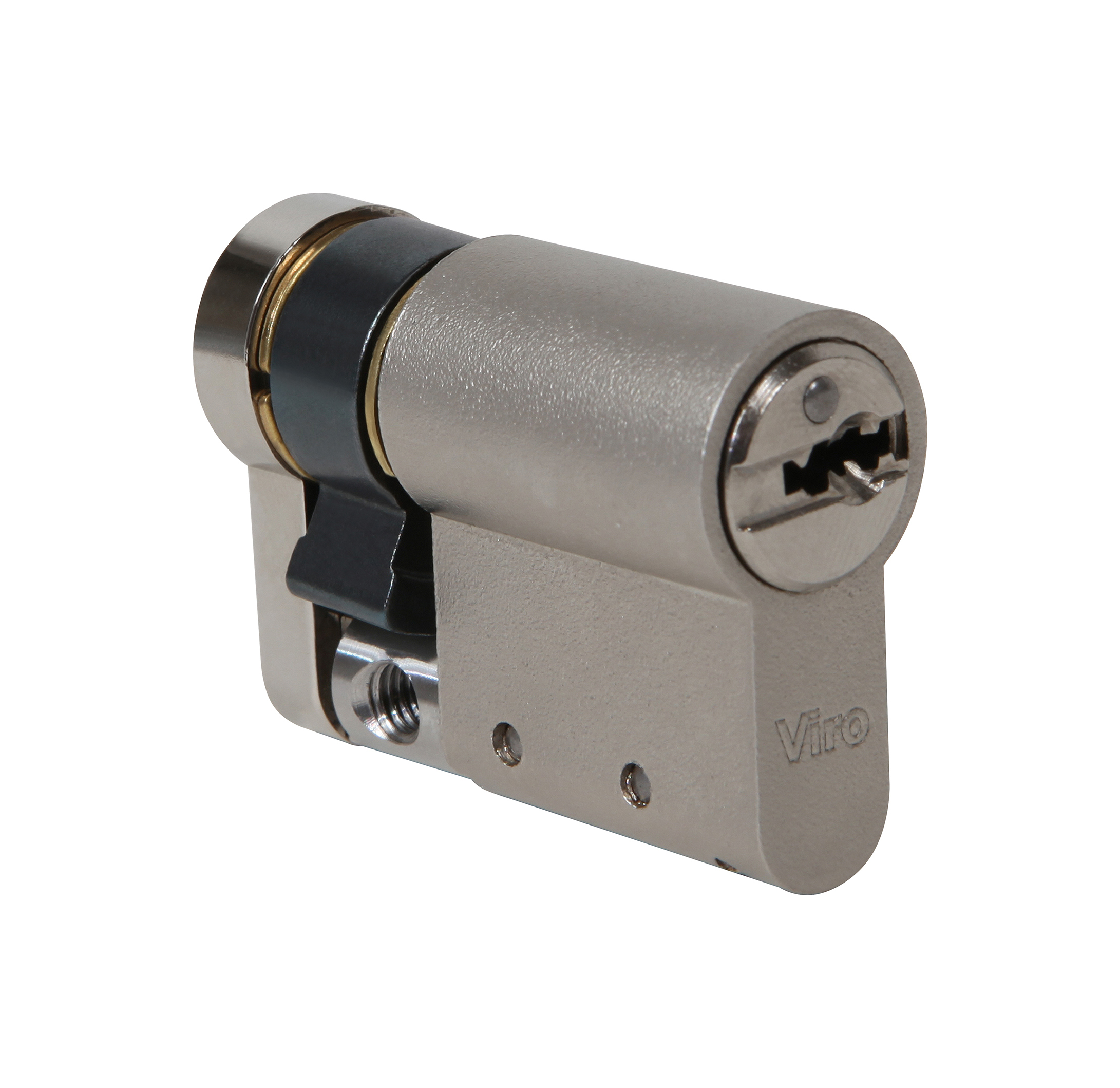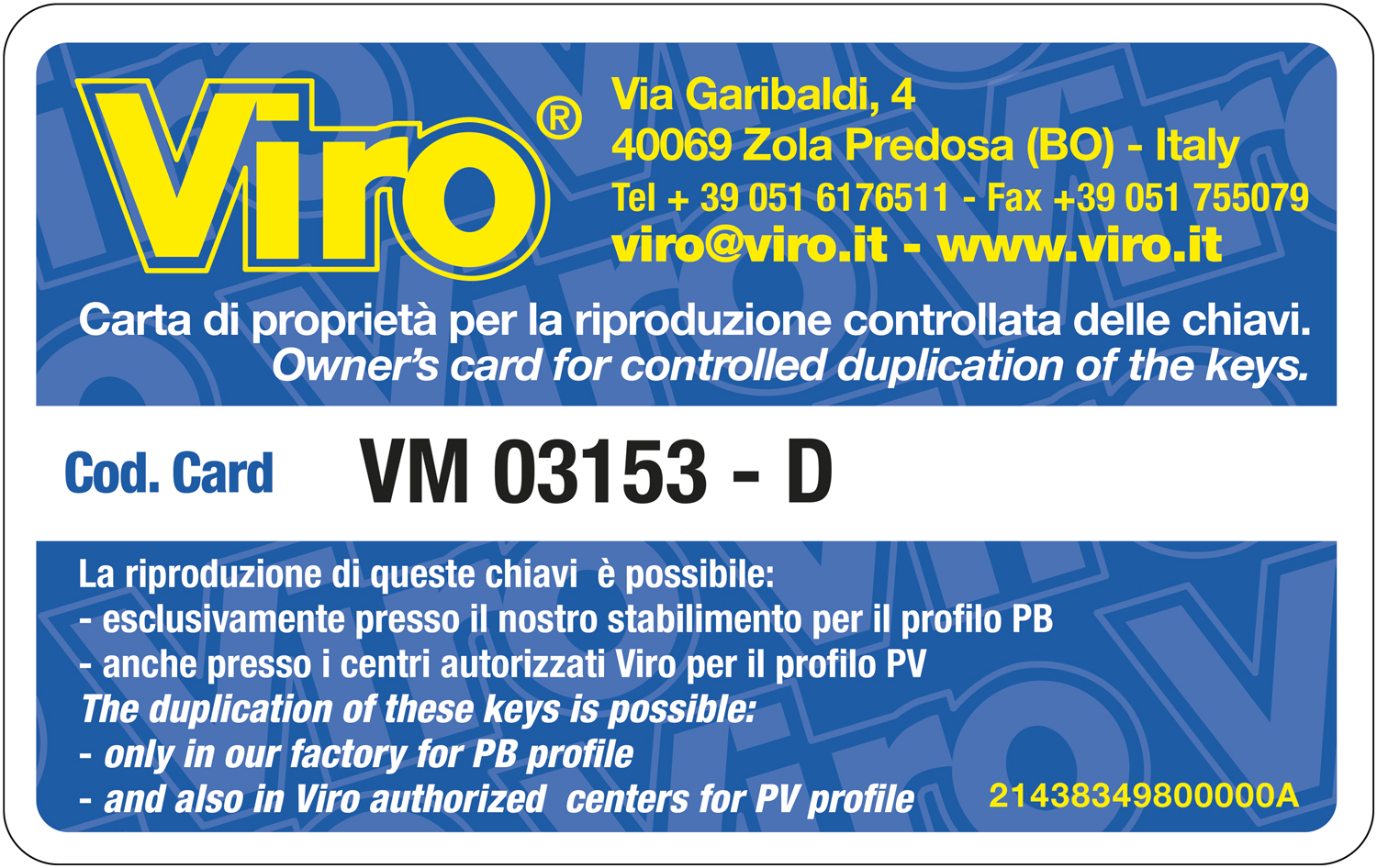 VIRO PALLADIUM - Half cylinders - Maximum security cylinders - With european profile - With punched key
The half cylinder versions maintain all the security characteristics of the VIRO PALLADIUM double cylinders, completing the range and offering numerous applications (e.g. "New Condor", "Universal Spranga", 304.MC and 4117.MC padlocks, roller shutter and up and over door locks designed for profile cylinders, etc.).
Body:


solid extruded brass, modular (except for item 880.30.10.09), satin nickel finish.

Pull-resistant bar:


Ø 6 mm inserted in the modules (except ITEM - 880.30.10.09) making up the body and visible at the hole for the cylinder fixing screw.

Drill-resistant pins:


(in the body) and (in the plug), case hardened steel pins on each key side.

Plug:

Keys:


punched (don't ruin your pockets);

coated with non-slip ergonomic nylon grip, with support showing the name and identifying, by touch, the side of the key to be inserted; the support can be personalised with the customer's name, for bulk purchases;

3 supplied in sealed envelope (5 supplied in "Viro Palladium.PB" version);

Coded ownership card (key code):


can be used to request duplicate keys to Viro for the VIRO PALLADIUM version;

, with an original key, to obtain, for the;

for the retailer to request , for the version.

Mechanism:


alternate counterpins: 4 , , 3 mushroom brass ;

pin springs and side elements;

Supplied with:


metric-thread fixing screw.

Packaging:


Personalized single box.

On request:


polished brass versions (add .13 at the end of the code instead of .09) for ;

reserved profiles for customers, for quantity

(length as required) item 880.30.10.K.09, suitable as an internal service cylinder on armoured doors with fittings two cylinders of those with a twin lock.
RANGE 880- Sizes in stock

 Half cylinder specifically recommended for use with the New Condor item 1.4218 and for padlocks suitable for half cylinder item 304.MC and item 4117.MC

 For versions with patented profile keys the item code should be followed by: .PV or .PB
RANGE 880- Sizes on request for minimum order 5 pcs. (.PV and .PB versions haven't minimum order)

 For versions with patented profile keys the item code should be followed by: .PV or .PB
RANGE 880- Kit in stock
Item
Total lenght
Cam position
pin plug
Keys
Unit weight
Pcs. per pack

No.

mm

A

mm

B-C

No.

ITEM NO.

g

No.

  880.30.10.K.09
40
30 - 10
7
065
200
1
Kit for the use of thumb turn half cylinder (length as required) consisting of: half cylinder with standard shaft; chromeplated steel extension (item 3989), supplied with fixing grub screw, for thumb turn side extension, break-off as required and designed for thumb turn fixing with grub screw inserted; round satin nickel aluminium thumb turn (item 740.0850.2.009);  (item. 855.0065) with the same finish as the cylinder, adapted for the thumb turn extension.