Rim door locks, SPRANGA, doorclosers, panic devices and cylinders
VIRO AIR series doorclosers - Rack and pinion
VIRO AIR doorclosers have the same dimensions and the same fixing hole distances, regardless of the strength and version.
Although they look the same, they can have different functions and are thus particularly suitable for doors which look the same but have different characteristics.
They are also suitable for wooden or metal doors (right and lefthand) and can be installed either on the door (standard installation) or on the door jamb (reverse installation).
, .
Body:


one-piece painted pressure-cast aluminium Standard colour:

grey or black for items 118.03.1 and 118.13.2.

Arm:


steel, , allowing a stroke of 50 mm.

Regulating valves:


. The valves , . Overload relief internal valve.

Mechanism:


hydraulic operation, . No maintenance required;

in the adjustable hold open version, the controlled swing arm allows hold open in any door position, by means of an external device, in order to adapt to any type of installation. Opening angle can be changed as required;

fixed strength versions: .02 - .03 CE certified.

adjustable strength versions: .13.

Supplied with:


2 installation templates for standard or top jamb application, for right-hand or left-hand doors; bag of screws (metric-thread screws for metal doors and self-tapping screws for wooden doors) same colour as door closer.

Packaging:


single box.

On request:


with a special order, (except for CE versions and items 118.02.1) you can request the following colours, (minimum 200 pcs): white .543 - gold .541 - brown .546. (add the colour code at the end of the item code replacing .211 or .212).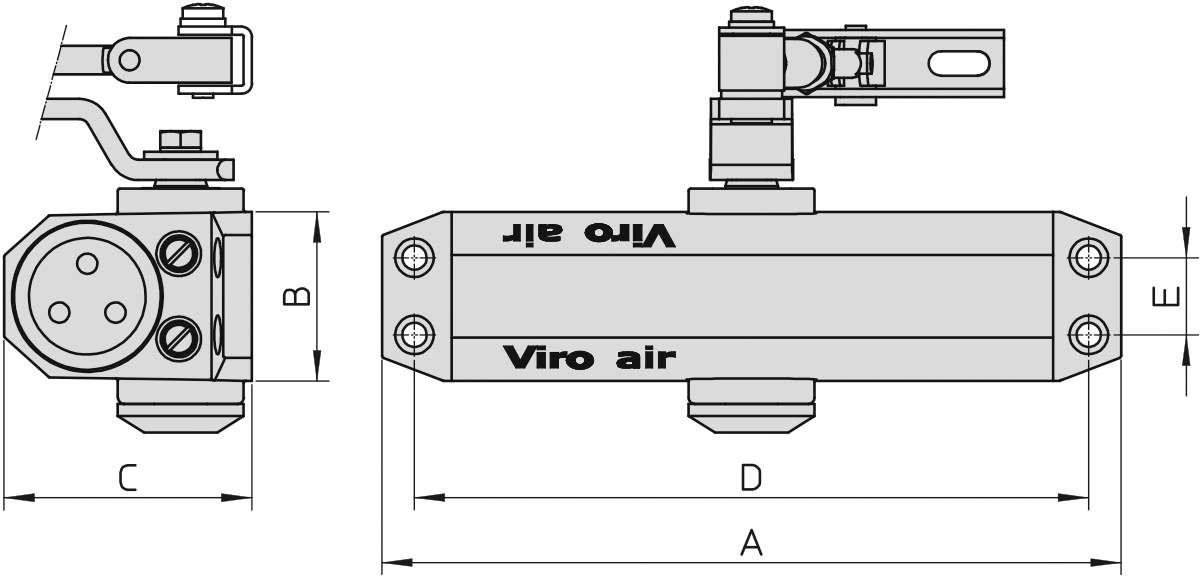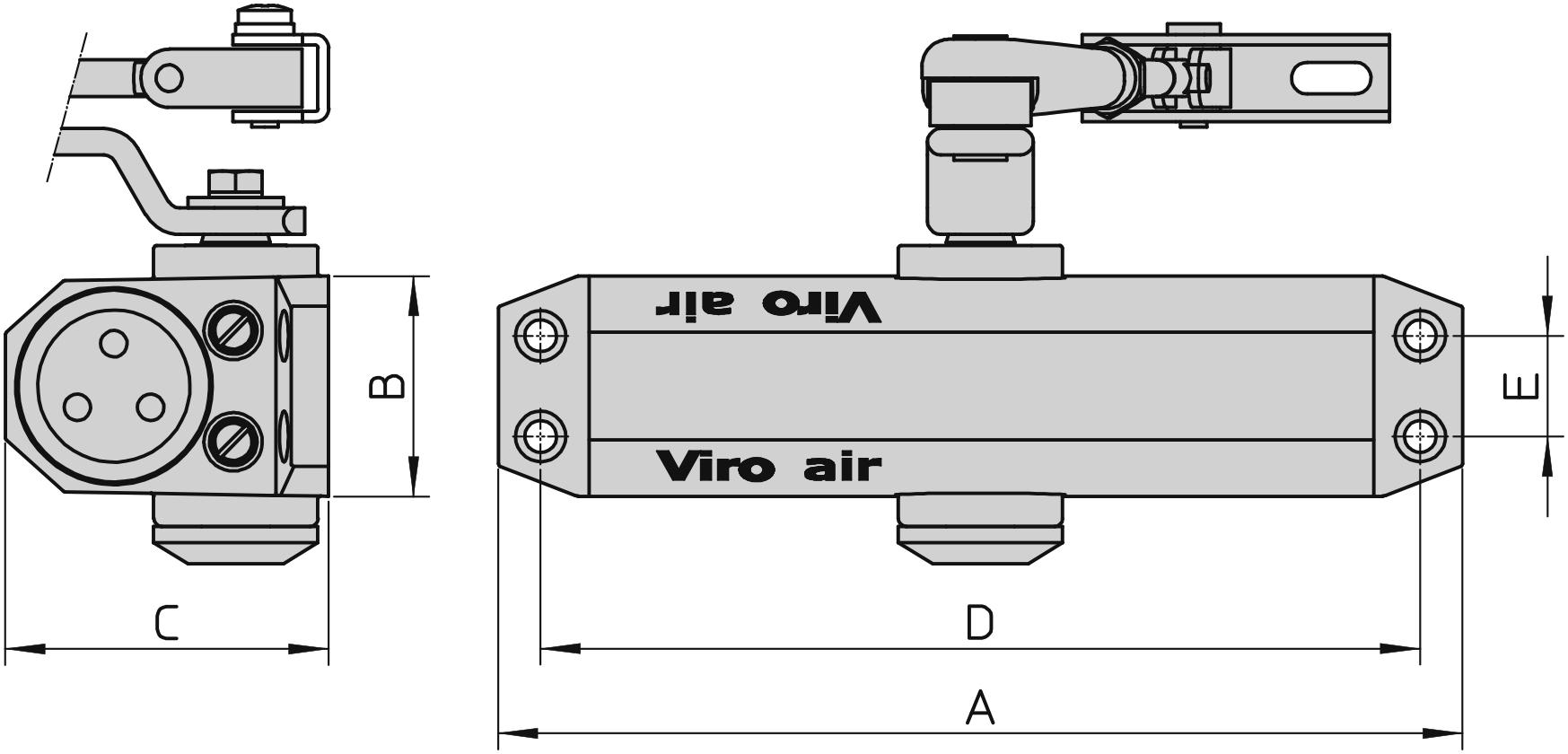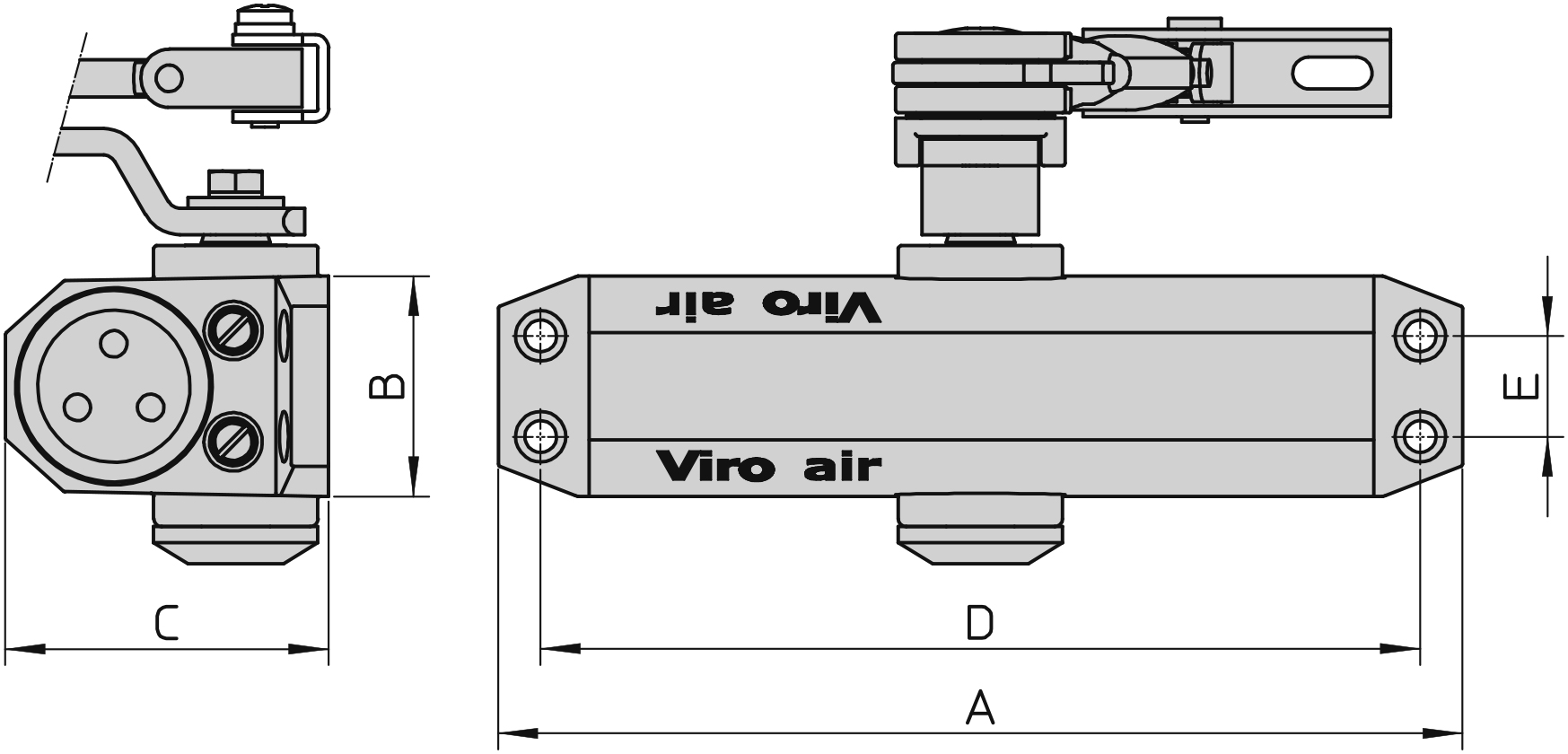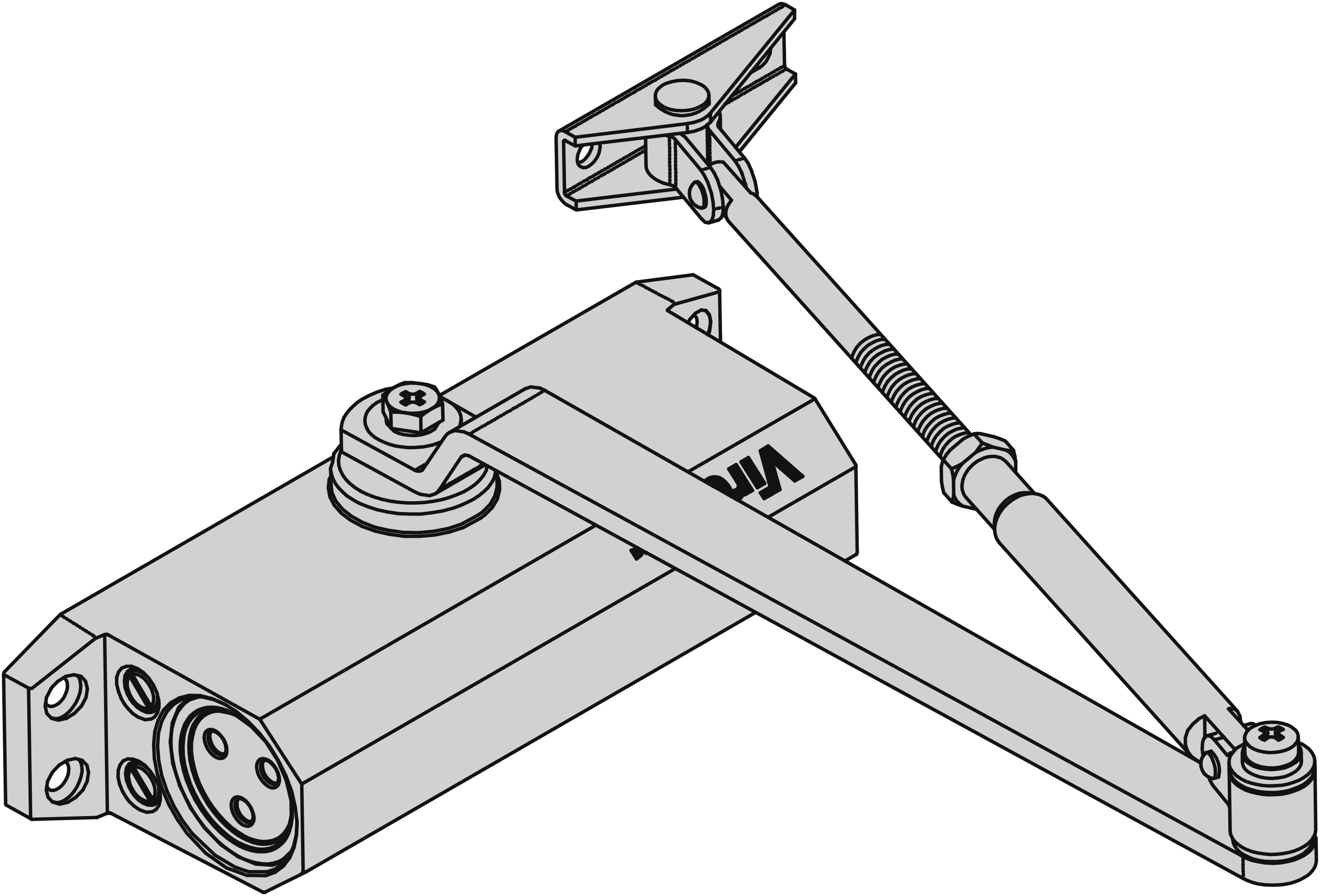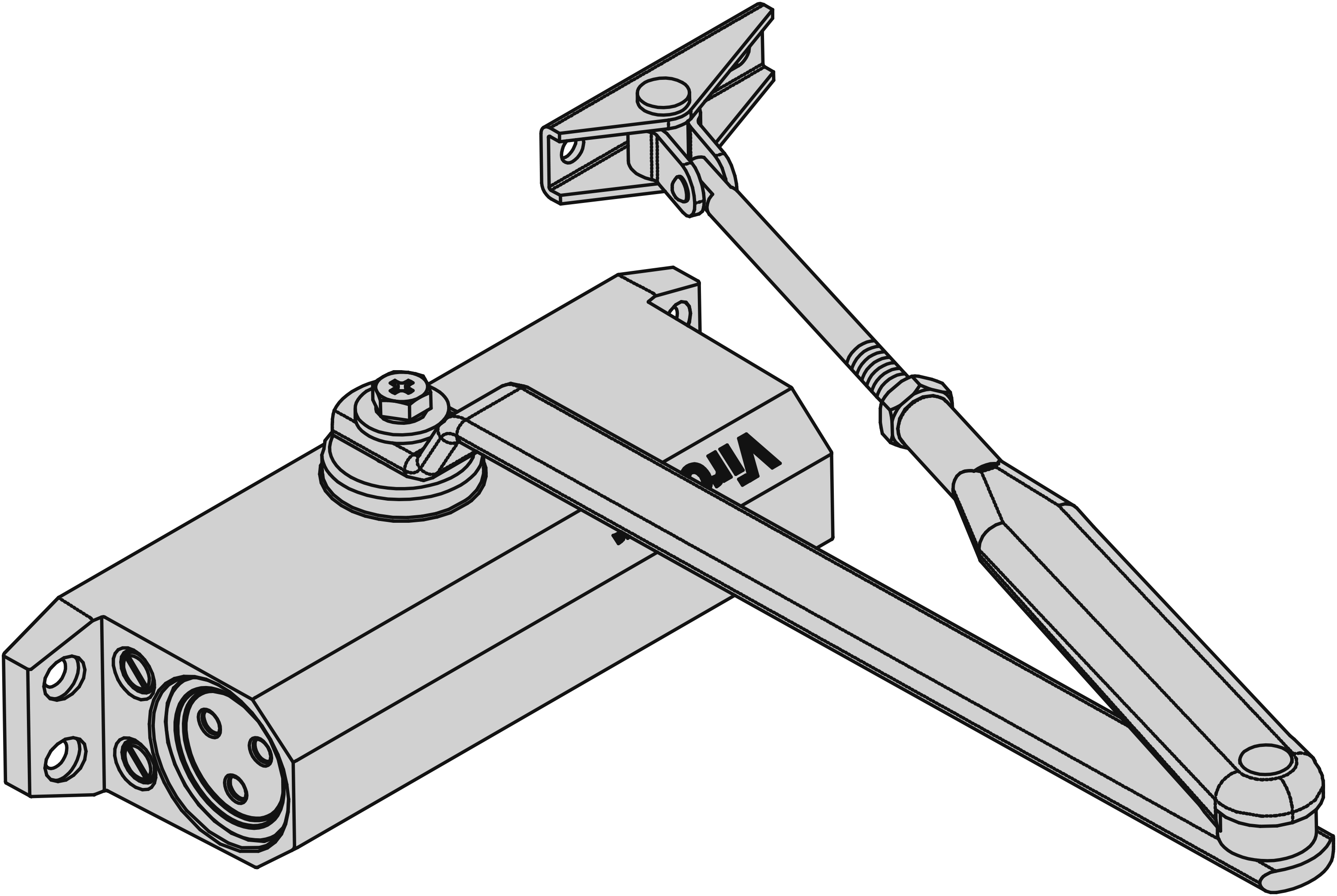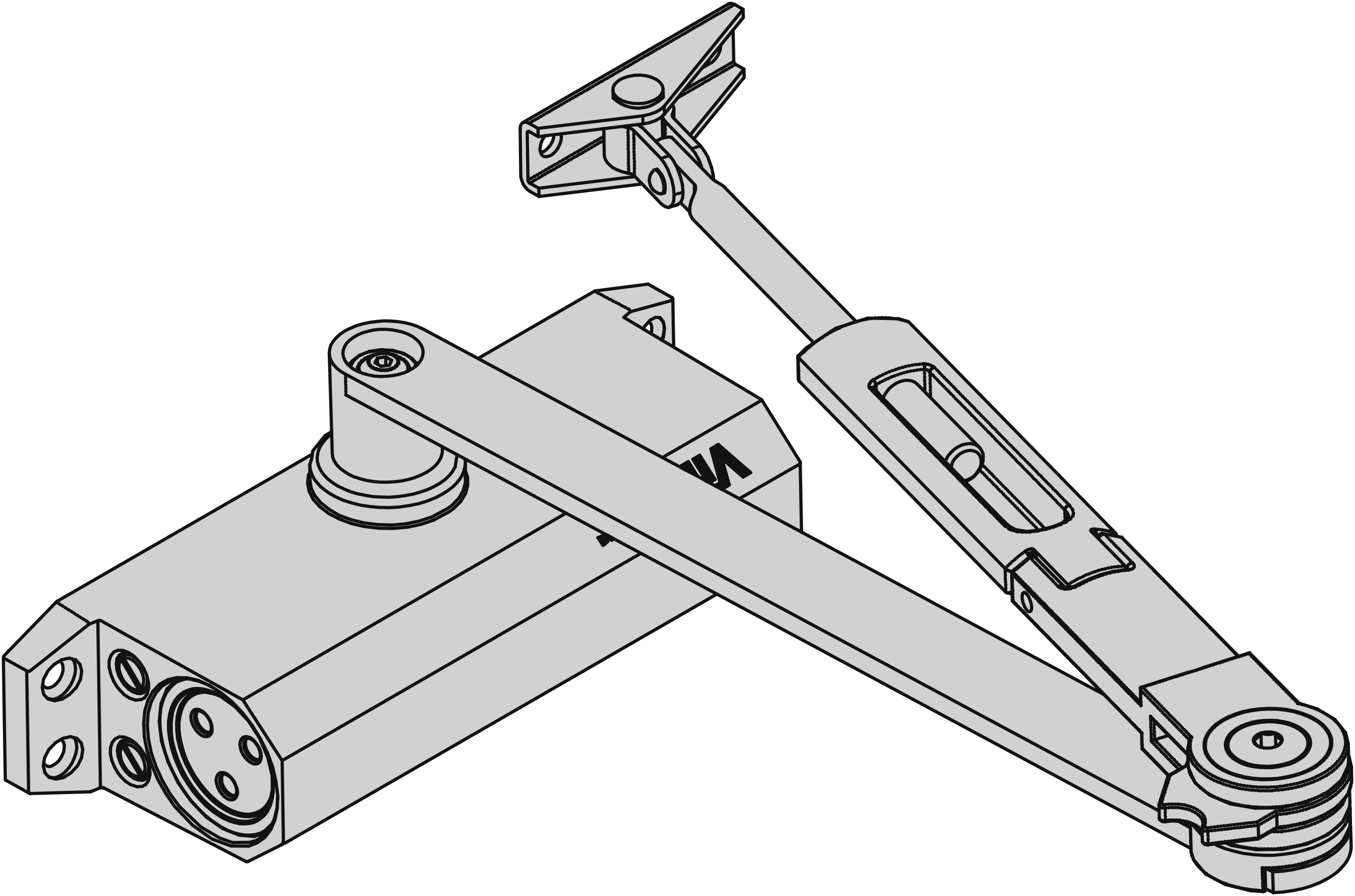 VIRO AIR series doorclosers
| | Item | Body dimensions mm | Fixing hole distances Horiz. mm | Fixing hole distances Vert. mm | Unit weight | Strength | Color and version | For doors Max width | For doors Max weight |
| --- | --- | --- | --- | --- | --- | --- | --- | --- | --- |
| | No. | A x B x C | D | E | g | | | cm | kg |
| |   118.02.1.212 | 182 x 41,5 x 61 | 166 | 19 | 1490 | 2 - fixed | Grey non hold open | 85 | 45 |
| |   118.03.1.211.CE | 182 x 41,5 x 61 | 166 | 19 | 1530 | 3 - fixed | Black non hold open | 95 | 60 |
| |   118.03.1.212.CE | 182 x 41,5 x 61 | 166 | 19 | 1530 | 3 - fixed | Grey non hold open | 95 | 60 |
| |   118.13.2.211 | 182 x 41,5 x 61 | 166 | 19 | 1860 | 2-3-4 adj. strength | Black adjustable hold open | 110 | 85 |
| |   118.13.2.212 | 182 x 41,5 x 61 | 166 | 19 | 1860 | 2-3-4 adj. strength | Grey adjustable hold open | 110 | 85 |