MORTISE DOOR LOCKS AND CYLINDERS
NEW EURO-PRO - Double profile cylinders - Security cylinders - With european profile - With flat and reversible key
Body:


solid extruded brass (European profile cylinder), .

Pull-resistant support:


.

Plug:


brass, 5 or 6 pins.

Keys:


and reversible nickel-plated brass keys (that don't ruin your pockets and can be inserted either way up), in a sealed envelope.

in the single box.

Coded ownership card (key code):


indicating the retailer data.

Mechanism:


, . Non-friction versions available on request.

mushroom brass counterpins, ;

Supplied with:


metric-thread fixing screw.

Packaging:


personalized single pack, in 5 piece boxes.

On request:


polished and lacquered brass version (add .013 at the end of the code instead of .009) for .

N.B. for some less common sizes and / or versions and / or finishes, when the availability of stock is not sufficient to satisfy the request, minimum order and longer waiting times are necessary.
820 RANGE - Double cylinders
Item
Total lenght
Cam position
Pins
Keys
Unit weight
Pcs. per pack

No.

mm

A

mm

B-C

No.

Item No.

g

No.

  820.30.30.009
62
31 - 31
5
063.B
300
5
  820.30.35.009
66
31 - 35
5
063.B
310
5
  820.35.35.009
70
35 - 35
6
063.A
315
5
  820.30.40.009
71
31 - 40
5
063.B
315
5
  820.35.40.009
75
35 - 40
6
063.A
335
5
  820.30.45.009
76
31 - 45
5
063.B
335
5
  820.35.45.009
80
35 - 45
6
063.A
355
5
  820.40.40.009
80
40 - 40
6
063.A
355
5
  820.30.50.009
81
31 - 50
5
063.B
355
5
  820.40.45.009
85
40 - 45
6
063.A
360
5
  820.35.55.009
90
35 - 55
6
063.A
380
5
  820.45.45.009
90
45 - 45
6
063.A
380
5
  820.40.50.009
90
40 - 50
6
063.A
380
5
  820.45.55.009
100
45 - 55
6
063.A
410
5
  820.50.50.009
100
50 - 50
6
063.A
410
5
  820.40.60.009
100
40 - 60
6
063.A
410
5
  820.30.70.009
101
31 - 70
5
063.B
410
5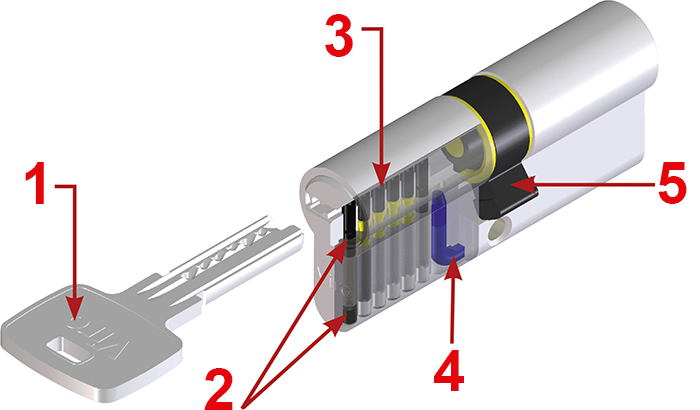 1. Flat and reversible key

2. first set of tempered AISI 420C inox stainless steel counterpins and caps

3. Pins in tempered AISI 420C inox stainless steel

4. Pull-resistant support

5. Anti-withdrawal DIN cam