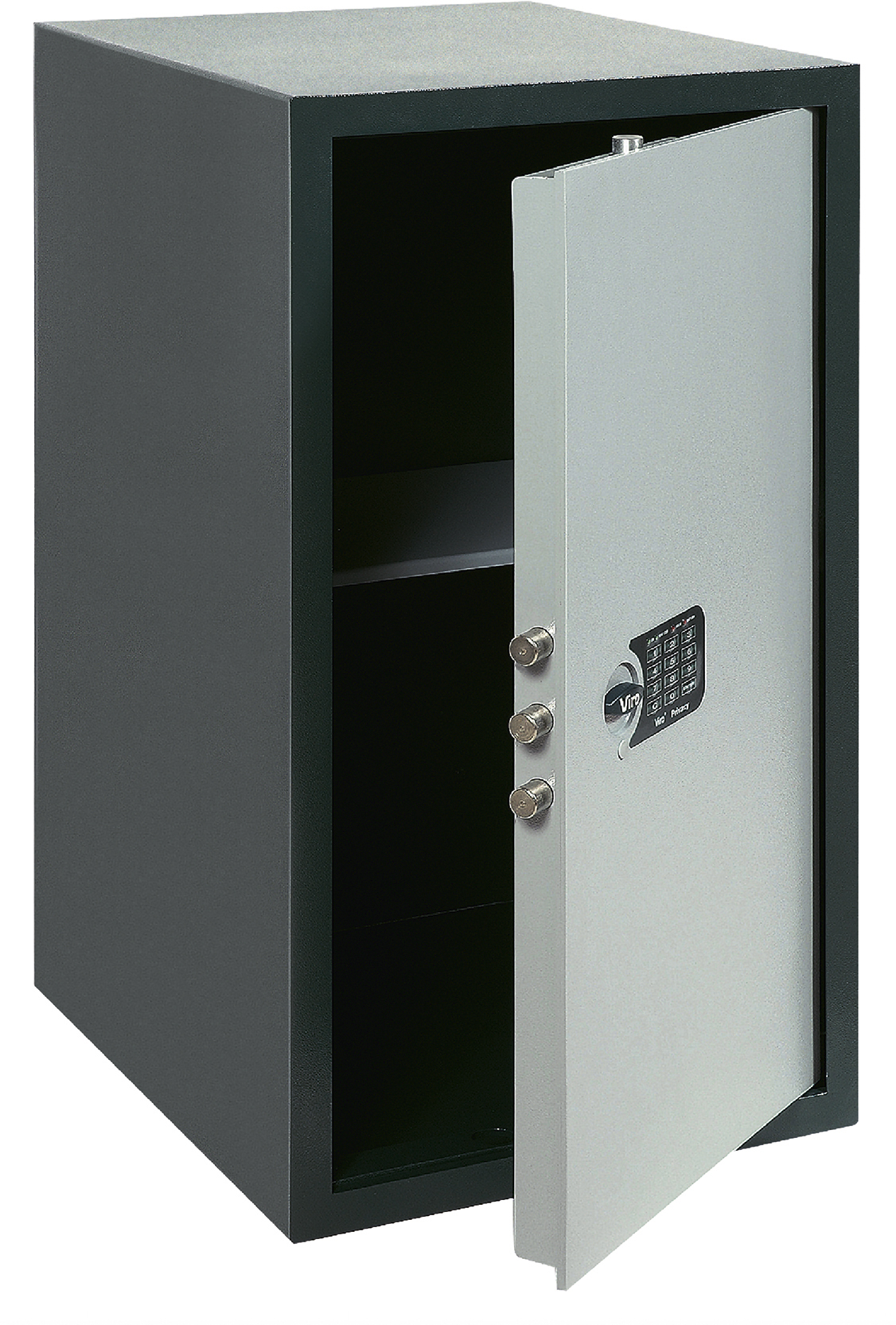 Electronic free standing safes with LEDs for reception items 1.4396.2 - 1.4398.2
All steel construction without plastic parts.

Scratch-proof painting and practical internal shelf

Opening and closing with code (from 3 to 8 digits) and knob rotation

Programmed breakage steel knob with scratch-proof plastic cover

Brass cover plate protecting the electromagnet from access by burglary tool

Low consumption, protected electronics

4 bright LEDs on the keypad

ADA compliant keypad with Braille marking and acoustic confirmation

Flat battery audio/visual warning

Non-volatile memory: stored codes are not erased when batteries are removed

Electronic block of 15 minutes after 5 consecutive wrong attempts

Mechanical emergency opening

Easy and secure fastening method with dowels (provided): 4 pre-drilled holes on rear and 4 on bottom

Alkaline batteries included

On request:


 (photos and details of the accessories):

220 V converter for power supply option

Alkaline batteries included


Low consumption electronics working with 4 x 1.5 V alkaline batteries (less expensive than 1 x 9 V battery) combined with an optimized mechanics reducing frictions, allows to economize on the safes maintenance (over 10.000 operations with the same set of batteries!)

Electronic Board Protected


Electronic board protectet against break-in attempts by high voltage electric shocks on the keypad. Micro-controller reprogrammable for software updates.

Programmed breakage knob


Programmed breakage knob with steel shaft, , , not allowing the safe to open. Even when broken, the shaft will not allow the access to the safe.

Specially Rebated


Specially rebated around the entire frame perimeter for greater resistance to attack.
1.4396.2
| | Item | Description | Unit of measure | Dimensions |
| --- | --- | --- | --- | --- |
| | No. | | | |
| |   1.4396.2 | External dimensions H x W x D | mm | 790 x 440 x 500 |
| |    | Internal dimensions H x W x D | mm | 780 x 434 x 450 |
| |    | Door opening H x W | mm | 730 x 380 |
| |    | Door thickness | mm | 8 |
| |    | Packaging Volume | Lt. | 221,5 |
| |    | Unit weight | kg | 70,3 |
| |    | Case Colour | | Dark green - Ral 6012/structured |
| |    | Door Colour | | Grey - Ral 7040/structured |
1.4398.2
| | Item | Unit price | Unit of measure | Dimensions |
| --- | --- | --- | --- | --- |
| | No. | | | |
| |   1.4398.2 | | mm | 555 x 350 x 460 |
| |    | | mm | 545 x 344 x 410 |
| |    | | mm | 495 x 290 |
| |    | | mm | 8 |
| |    | | Lt. | 119,4 |
| |    | | kg | 45 |
| |    | | | Dark green - Ral 6012/structured |
| |    | | | Grey - Ral 7040/structured |