Roller shutter and up and over door locks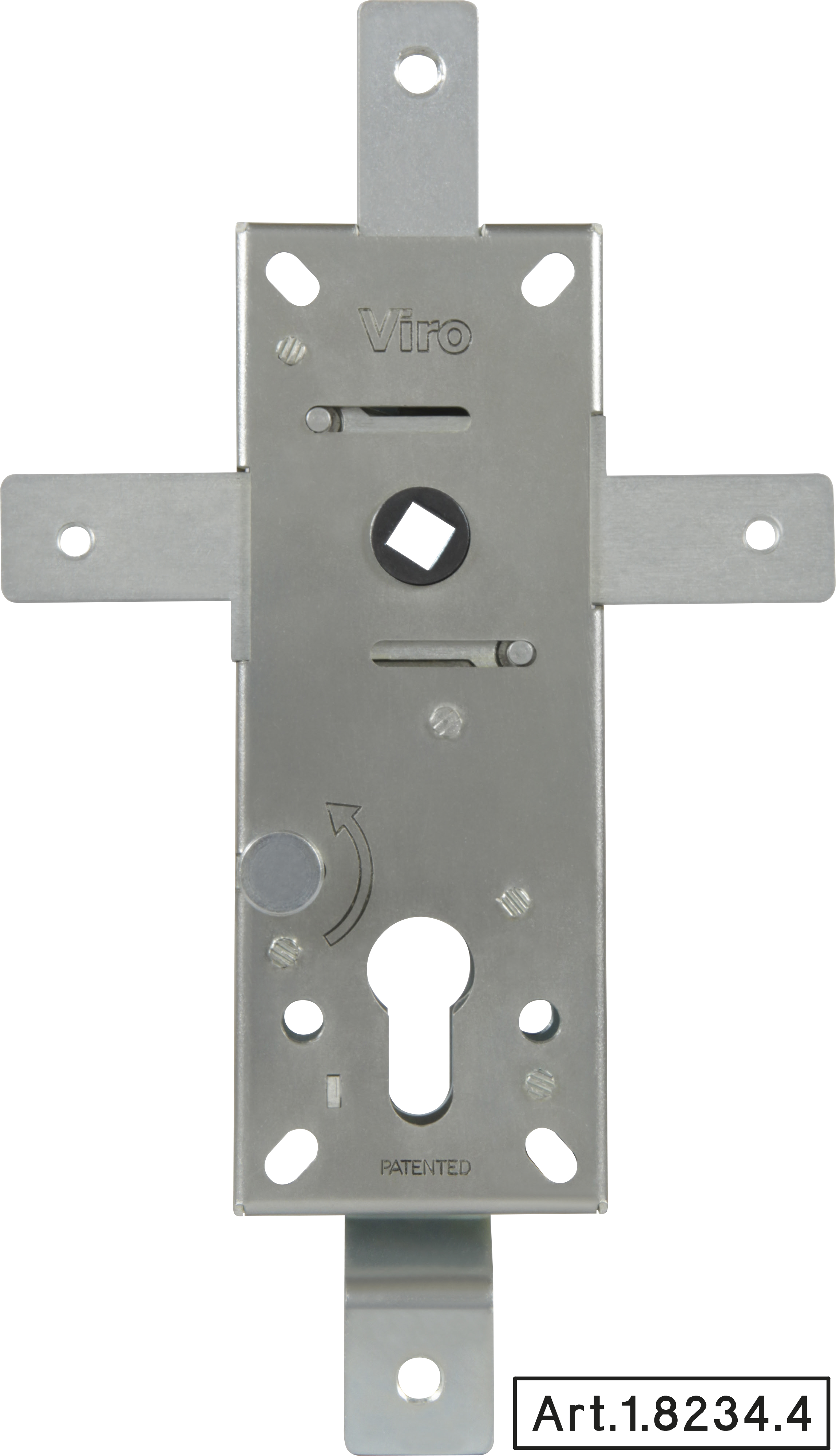 Multipoint locks for up and over doors (with 70 mm centre distance) to be armoured
The 1.8234 multipoint locks are interchangeable with the mostcommon locks (with 70 mm centre distance) for up and over doors alreadyinstalled and can be armoured by simply mounting a securityescutcheon. The complete range allows any type of application.
Structure and internal components:


galvanized steel. DIN standard through holes for mounting of security escutcheon.

Dead-bolts:


3 mm thick steel with threaded holes.
Vertical dead-bolts projection: 24 mm. Horizontal dead-bolts projection 21.4 mm.

Mechanism:


designed for use with profile half cylinder with DIN or universal cam (e.g. Viro half cylinders of the 770-975-875-880 range);

70mm centre distance; slotted fixing holes for maximum interchangeability with models on the market;

dead-bolts operated by inside and outside handle;

8 mm handle hole. Sintered steel handle hole cam;

opening from the outside with key, from the inside with rotating thumb turn which cannot be reached from the outside with housebreaking tools.

Supplied with:


galvanized steel fixing screws for the cylinder.

Packaging:


in 2 piece boxes.

On request:


photos and details of the accessories

just 2 components: horizontal and vertical dead-bolts that, together with item 1.8234.1A, allow you to keep stocks to a minimum and quickly create all possible versions, as required.

N.B. profile cylinder not provided.
Multipoint locks for up and over doors (with 70 mm centre distance) to be armoured
COMPONENTS FOR CREATING ALL POSSIBLE VERSIONS (with item 1.8234.1A)
|   | Item | Description |
| --- | --- | --- |
|   | No. |   |
|   |   1.8252.0400.1 | Horizontal dead-bolts (1 pair per pack) |
|   |   1.8234.0450 | Vertical dead-bolt (1 pc per pack) |