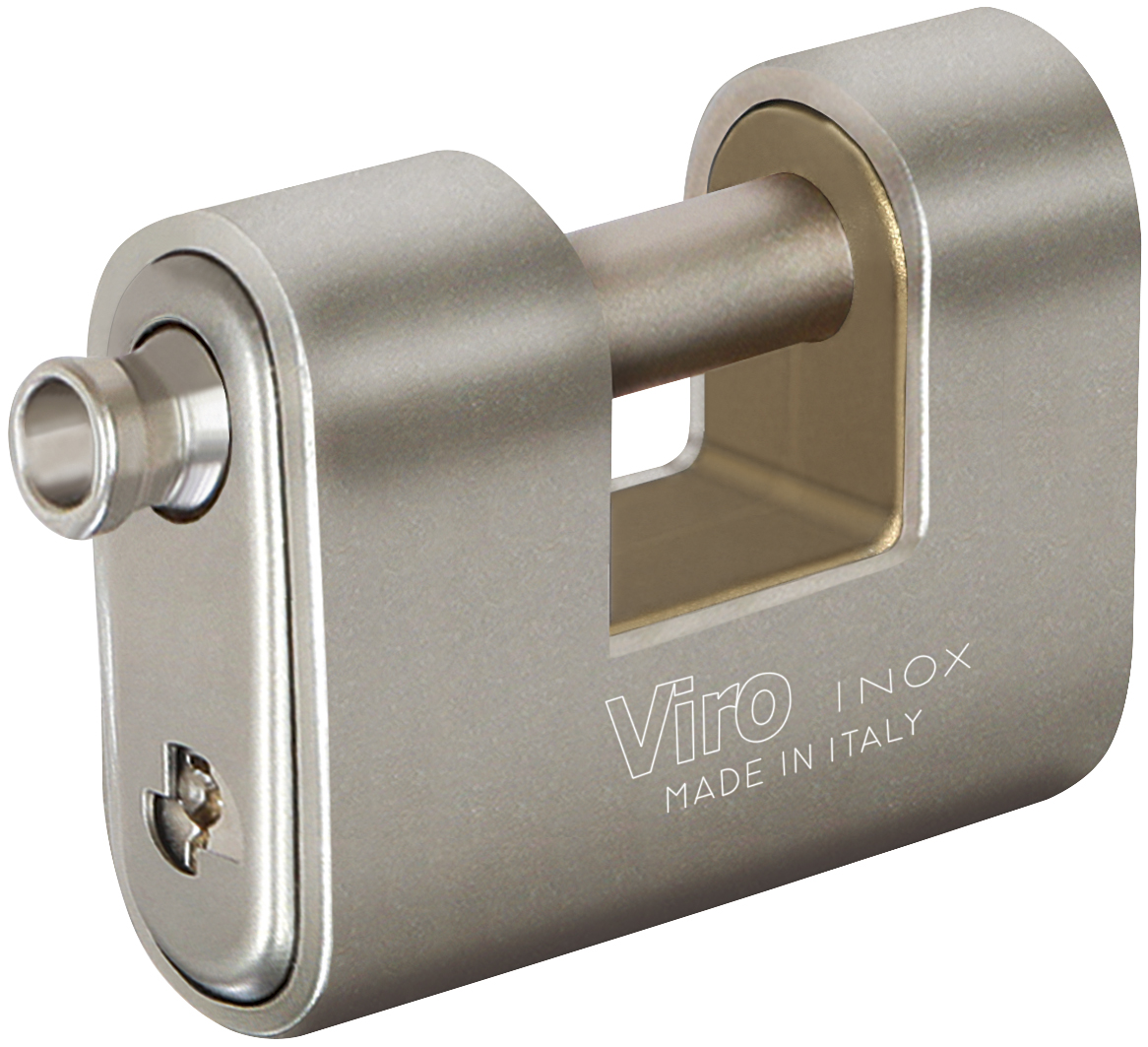 Inox stainless steel PANZER Armoured Padlocks
The new inox stainless steel armoured padlocks combine the known and appreciated characteristics of security and reliability of the Viro PANZER with a very high degree of corrosion resistance, making them ideal for securing goods, even of considerable value, kept in environments subject to aggressive weather conditions, such as seaside warehouses, transport containers, fuel dispensing pumps, etc.
Body:


solid forged brass one-piece body padlock.

Main armour:


3 mm thick satin-finish .

Side armours:


1.5 mm thick satin-finish .

Dead-bolt:


satin-finish AISI 316 inox stainless steel, rotating resistant to attack dead-bolt. .

Safety plug:


Safety plug:7 pin plug, pull-resistant, with case-hardened, tempered, copper, nickel and chrome plated steel anti-drill plate (items 4116, 4117 and 4126).

Keys:


supplied with 3 nickel-plated brass keys.

  Versions available with patented profile keys (form trademark) which can only be duplicated by Viro (.PB profile) or versions which can be duplicated only by Viro authorized centres (.PV profile).

Mechanism:


mushroom brass counterpins, ;

Packaging:


single box visual pack.
Inox stainless steel PANZER Armoured Padlocks
Item
Body dimensions
Horizontal and vertical clearance
Dead-bolt diameter
Keys
Unit weight
Pcs. per pack

No.

mm

A x B x E

mm

F x C

mm

D

ITEM NO.

g

No.

  4117.X
86 x 72 x 29
36 x 20
12
039
790
1

 For versions with patented profile keys the item code should be followed by: .PV or .PB