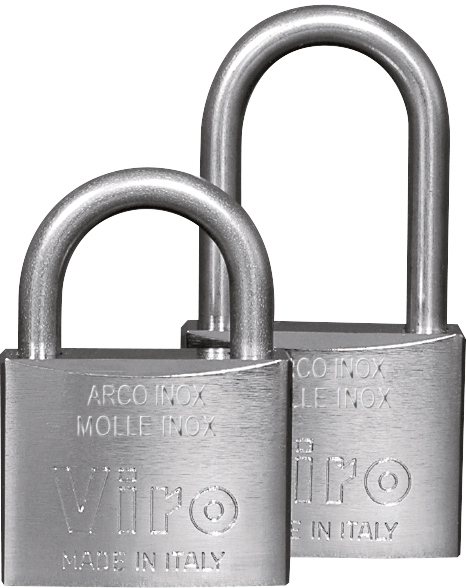 MARINE Padlocks
When humidity, marine salinity and acid rain make other padlocks difficult to use, these Viro "Marine" padlocks, being rust and corrosion proof, provide higher resistance to severe weather conditions, thanks to the superior quality of the materials and the special treatments, making them the ideal solution.
Body:


nickel and chrome-plated solid satin brass for , with rounded anti-abrasion edges. .

Shackle:


inox stainless steel for .

Keys:


supplied with 2 Viro profile nickel plated brass keys.

  Versions available with patented profile keys (form trademark) which can only be duplicated by Viro (.PB profile) or versions which can only be duplicated by Viro Authorized Centres (.PV profile).

Mechanism:


key removable in locked and unlocked position;

mushroom brass counterpins, ;

2 spring-loaded brass latches;

phosphor bronze pin springs;

Packaging:


Personalized single box.
LONG SHACKLES - Sometimes you do not need a bigger padlock, but just a longer shackle
Item
Body dimensions
Shackle clearance
Shackle diameter
Keys
Unit weight
Pcs. per pack

No.

mm

A x B x E

mm

C - F

mm

D

Item No.

g

No.

  375
40 x 32 x 15
40 - 23
6
013
180
4
  377
50 x 40 x 17
55 - 30
8
015
325
4

 For versions with patented profile keys the item code should be followed by: .PV or .PB

 Items that can be ordered with .PV or .PB profiles, handled as a special order.