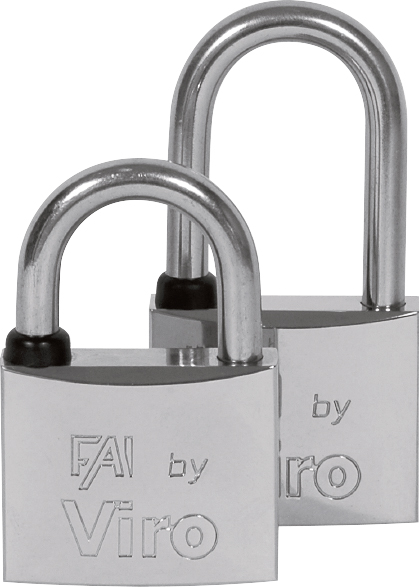 Fai by Viro MARINE Padlocks
Special corrosion proof padlocks.
Weatherproof (resistant to salinity, humidity,etc.) for a long operating life.
Body:


polished nickel and chrome-plated solid brass for , with rounded anti-abrasion edges.

Shackle:


inox stainless steel with anti-humidity seal, for .

Keys:


supplied with 2 Viro profile nickel plated brass keys.

Mechanism:


key removable in locked and unlocked position;

2 spring-loaded brass latches;

phosphor bronze pin springs;

D class steel latch springs;

D class steel shackle spring.

Packaging:


Standard KA executions are available.
LONG SHACKLES - Sometimes you do not need a bigger padlock, but just a longer shackle
Item
Body dimensions
Shackle clearance
Shackle diameter
Keys
Unit weight
Pcs. per pack

No.

mm

A x B x E

mm

C - F

mm

D

ITEM NO.

g

No.

  573.32.7
30 x 28 x 13
32 - 16
5
011
120
12
  574.42.7
40 x 33 x 15
42 - 22
6,3
013
195
6
  575.49.7
50 x 41 x 17
49 - 28
8
015
320
6