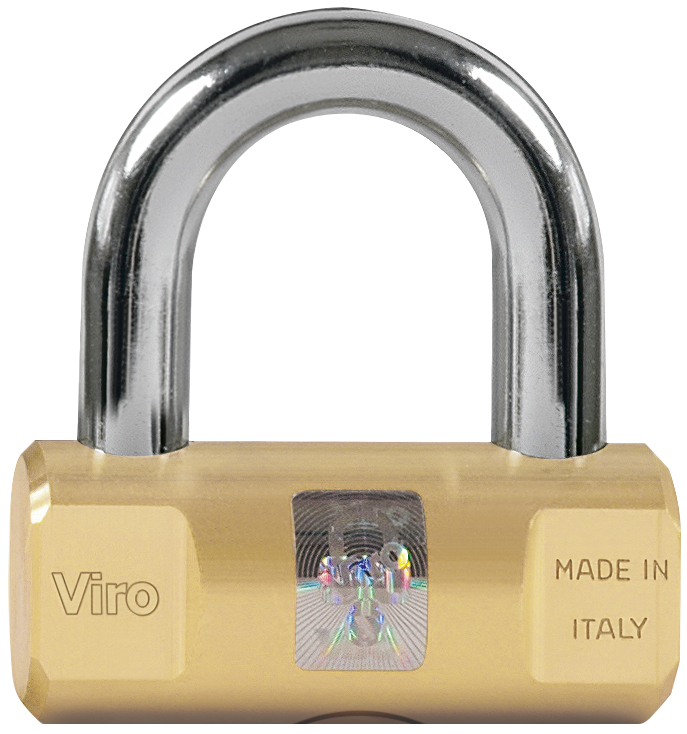 Cylindrical padlocks
The Viro cylindrical padlock has distinguished our company since its foundation.
, .
"" .
() .
Body:


solid satin brass with transparent varnish protection and rounded edges to avoid abrasions.

Shackle:


case-hardened and tempered steel for , copper, nickel and chrome-plated for .

Keys:


supplied with 2 Viro profile nickel plated brass keys.

  Versions available with patented profile keys (form trademark) which can only be duplicated by Viro (.PB profile) or versions which can be duplicated only by Viro authorized centres (.PV profile).

Mechanism:


mushroom brass counterpins, ;

, (series 200 supplied with brass latches);

phosphor bronze pin springs;

D class steel latch springs;

D class steel shackle spring.

Packaging:


single box visual pack.
100 SERIES: key retaining - 2 offset steel latches
Item
Body dimensions
Shackle clearance
Shackle diameter
Keys
Unit weight
Pcs. per pack

No.

mm

A x B x E

mm

C - F

mm

D

ITEM NO.

g

No.

  102
50 x 27 x 27
25 - 25
8
011
255
6
  103
60 x 30 x 30
31 - 30
10
017
390
6
  104
70 x 33 x 33
35 - 38
12
017
565
4
  105
80 x 36 x 36
40 - 38
14
015
785
4

 For versions with patented profile keys the item code should be followed by: .PV or .PB